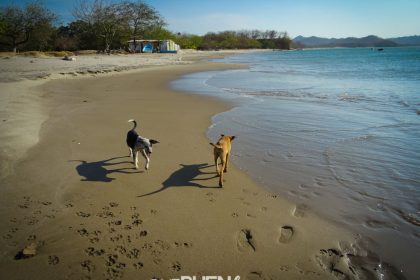 The North Pacific is closer than you think and It is nothing to envy the other popular beaches of Costa Rica, and as if it that were not enough, it has secrets and unique activities for all tastes.
How to get there?
Copal Kite: Waze
Copal Beach: Waze
Soda el Fogón de Aunt: Waze
Rajada Beach: Waze
Bike House: Waze
El Jobo Beach: Waze
Puerto Soley Beach: Waze
Vehicle:Automobile
Parking:Yes
Pets:Allowed on all of these beaches except The Bike House.
Information:
Comet Copal: info.cometacopalcr@gmail.com
The Bike House: Tel: 8704-7486 costarica.carole@gmail.com
What to bring?
Several bathing suits/trunks, sun-protective clothing, sunblock, insect repellent, sunglasses, towel, tablecloth or beach blanket, sandals, cooler, snacks, and drinks.
Last Easter we went to Guana, our idea was to visit the North Pacific of Costa Rica of which we knew little. We had a basic plan that was to visit some of the beaches of La Cruz and then camp in the area of Junquillal National Park, Santa Rosa and then finish off the trip close to the majestic Rincon de La Vieja National Park.
On the way there we made the first stop, nothing other than the incredible and wonderful Cerro Pelado, which we had already visited on another occasion, but we had to visit it again to see the sunset we had heard so much fuss about. We climbed in record time and arrived just in time to enjoy the last minutes of the sunset. We stayed all bundled up for a while until the wind was too much for us and we continued on.
The first night was spent near Liberia at a friend's place. The next morning we got up early to arrive at Copal Beach, we had scheduled "kitesurfing" classes here with our friends from Cometa Copal. We were there all morning doing kitesurfing level 1 (learn to fly the giant kite) but we found out that we needed a couple of days more to be able to complete the lessons and surf with the kite … so we decided to leave it for another time.
We got hungry and went to eat at a soda in El Jobo called the Fogón de Tía, this place is close by and is super tasty and you eat really well. With a full stomach, we were taken to see a mountain with a panoramic view of Bahia Salinas, the walk was through a private property where our kitesurfing teacher took us.
Then we went to the famous Playa Rajada, although the name of this one says a lot already (it means epic) … I'll add that it's a small beach without a lot of waves, plenty of trees to avoid sunbathing and cold water to cool off from the heat. We stayed here for a while enjoying the beach surrounded by several campers.
The sunset and we headed to The Bike House where we would spend the night. The next day we had breakfast and Carole (the owner) gave us a mountain bike tour through the area until we got to a property where an amazing amount of petroglyphs are found. This is a unique historical heritage that nobody really knows and that we should all know. Not much is known about their origin but they are really impressive with pretty clear geometric shapes of the sun, animals, spirals and other varied bugs.
We returned from biking and were greeted with a delicious six-pack of beer courtesy of the bike tour. We assembled the things to the cars and went to see El Jobo beach. This beach is also very chill, a bit windy compared to Playa Rajada but also small and cozy. The thing about this beach is that the street does not reach the sand, and the result is a beach with few people and a very quiet environment. We had our first of many tuna sandwiches and then went for a Churchill slushy to Puerto Soley in Bahia Salinas.
We arrived at Port Soley after 4 in the afternoon. It is a fairly large beach, safe, with small waves, empty and like all the beaches of La Cruz … beautiful. There is a stand of the Public Force because we are a hop from Nicaragua and there is a place that rents bathrooms and showers for what that need it. After the slushy, we had to go since we had to arrive before 6 pm to our next destination … Bahía Junquillal Wildlife Refuge;) …